Odyssey Mushroom Elixir Review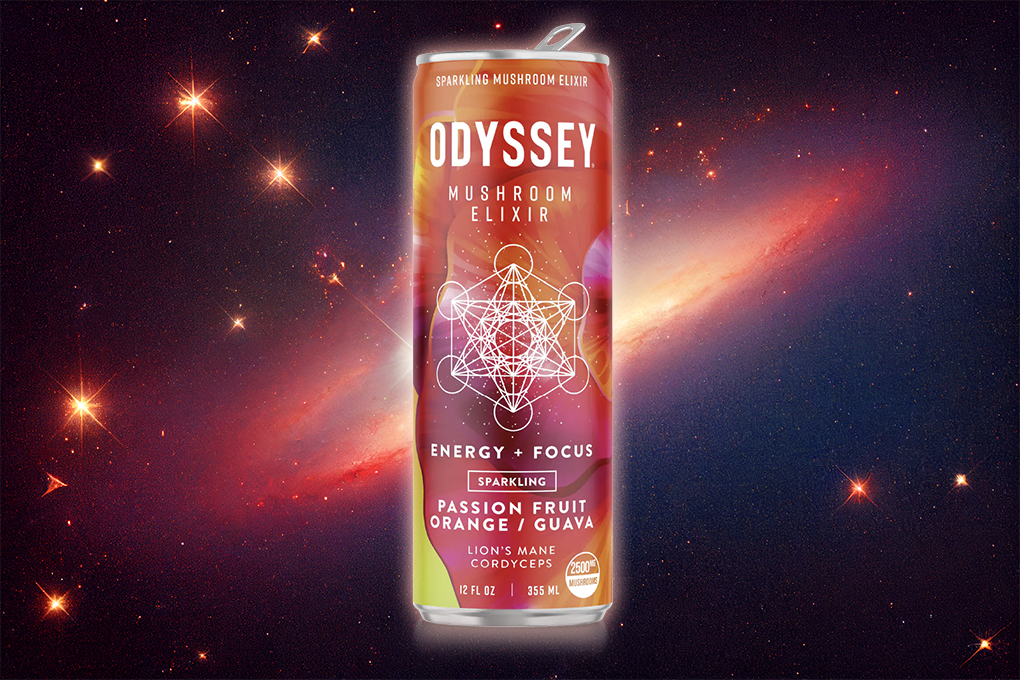 Before trying out adaptogenic drinks, it is normal to be skeptical. Companies can use whatever marketing spin to push their products as long as money is involved.
After all, doesn't it sound too good to be true that simple, natural ingredients derived from mushrooms could have such stupendous effects? 
These plant-like fungi are choked-full of antioxidants, proteins, vitamins, and vital minerals like selenium, magnesium, copper, and phosphorus. As a result, mushrooms are associated with wide-ranging health benefits.
With more and more people turning to nature-based solutions in their pursuit of good health and overall well-being, medicinal mushroom drinks like Odyssey's Mushroom Elixirs have become a favorite for most.
Here's everything you need to know about these functional mushroom beverages.
Key takeaways
Mushrooms have medicinal benefits that have been exploited for thousands of years.

The Odyssey Mushroom Elixir range of health drinks is infused with the healing and nourishing qualities of lion's mane and cordyceps.

They come in two different capacities – 7.4 and 12 fl. Oz.

If you like fizzy drinks, the carbonated variants are for you. Otherwise, go with the non-carbonated ones.
Odyssey Mushroom Elixir Potency
As the name implies, the Odyssey Mushroom Elixir range of functional drinks includes mushrooms as their star ingredient and marries them with a tea, coffee, or sparkling elixir base. They are available in 7.4 fl. Oz. and 12 fl. Oz. cans.
The 12-ounce-can drinks are carbonated and come in different flavors. They are enriched with lion's mane, ginseng, cordyceps, and organic caffeine from green tea extract. 
Typical energy drinks focus on boosting energy levels. Odyssey Mushroom Elixir drinks do much more. They are formulated to help:
Improve focus and boost

Boost mood

Lift energy levels

Strengthen immunity

Improve sleep
So, each drink is tailored to perform a specific function. 
Each can provides 25 – 35 calories and is flavored with natural juice concentrate. 
The 7.4-ounce drinks are non-carbonated. The tea-based variants pack up to 35 calories and roughly 8-9 grams of sugar. The coffee-based drinks tend to have more sugar (11 grams) and up to 45 calories. 
However, the Cold Brew Oat Latte is an outlier. Despite being coffee-based, it has 100 calories and 13 grams of sugar. For people trying to avoid sugar, the high sugar-content SKUs might not be their best option.
For this review, we look at several products to determine whether they are really what they say they are:
Energy + Focus with Blackberry Lemon Twist

Energy + Focus with Dragon Fruit Lemonade

Energy with Passion, Orange/Guava
The tea-based variants typically contain 8-9 grams of sugar and provide a total of 35 calories. 
Each drink has the signature blend of mushrooms such as reishi, maitake, chaga, cordyceps, and turkey tail. The result is 1,000 or 2,500 milligrams of mushrooms, depending on the drink size.
This many mushrooms in a drink obviously come with a few downsides. For starters, it is slightly tricky to figure out the difference between the blends. Secondly, the mixing and matching may not bring out the pairing a customer wants. 
Also, while the drinks are formulated for different functions, they don't seem to target a particular population demographic. So, it's likely that consumers who've tried one type might not find another they like. Overall, it makes for a rather complicated proposition for consumers.
On the bright side, the drinks are pretty much enjoyable. The range of flavors, ranging from the floral notes of the tea-based chamomile to the delicate but rich, sweet-scented coffee-based Energy SKU, means there's something for every taste bud.
Another aspect worth talking about is product packaging. These drinks come in two different capacities.
The smaller cans have shrink-sleeve labels with a matte finish. The front features the brand's logo and the "mushroom elixir" tagline at the top. The middle is decorated with different shapes depending on the flavor. The bottom of the can has the name of that particular SKU, its function, and a description of its mushroom blend and flavor. 
Overall, the packaging looks clean and polished. However, we couldn't help noticing the description feels a bit wordy. We think consumers know the product is a functional beverage with mushrooms as the major ingredient. So, maybe some of this space could be used to talk about calorie and sugar content. 
In our final analysis, we feel Odyssey has created a nice-tasting and well-packaged drink. What's more, they've done it with an ingredient that's undoubtedly in demand. What's left is to focus on the proven viable functions like Energy.
Odyssey Mushroom Elixir Quality
Obviously, the best part of this review is talking about how these drinks users feel. Toward this end, a few flavors stand out.
Passion, Orange/Guava for Energy + Focus 
This flavor has a surprisingly pleasant citrusy taste with sweet notes of guava and passion fruit. The drink itself is not super sweet (as should be expected of anything with mushrooms) like conventional energy drinks.
With around 85 mg of caffeine, this drink does not put you on edge. This is because the caffeine component is obtained from natural green tea. It affects focus levels, so it's what you'd probably consider to clear brain fog and shut out distractions.
This option is prefect fot anyone looking to supercharge their daily coffee. This canned drink combines cold brew coffee with cordyceps and lion's mane to help you stay more focused and productive. 
This functional mushroom cold brew invigorates your mind, body, and soul allowing you to perform at your best throughout your day. The oat latte flavor just makes it an absolute delight to the palate.  
Blackberry Lemon Twist for Energy + Focus
Straight up, this variant tastes like cough syrup. The strong herbal taste might turn off most people, but it's actually quite easy to ignore as you continue drinking.
There's anecdotal evidence that this drink is great for headaches, concentration, and focus. Users are torn between attributing the pain-killing effects to its medicine-like taste (confuses the brain) or the blend of ingredients. Regardless, customers say it works like a charm!
Does Odyssey Mushroom Elixir Make You Trip?
Not really, but no one says it better than the founder of Odyssey Mushroom Elixir - Scott Frohman. He says, "When you drink these drinks, the sky looks bluer, and the trees look greener. Whatever you're doing, you feel more present, euphoric, and elevated."
Do we need to say more?
Odyssey Mushroom Elixir Effects & Experience
Remember that these drinks are made with the overall goal of promoting overall health and well-being. So, the effects should ideally be along these lines.
So far, users seem to have been impressed by these drinks, given the rave reviews. For example, even the people who are normally affected by caffeine swear they don't react negatively to the caffeine in these drinks. 
Instead, they experience "a more sustainable energy boost" in addition to a better functioning brain. There's also better focus, mental clarity, enhanced mood, and pain relief. 
Frohman says the even frequent stomach problems he used to have suddenly stopped when he started adding mushroom powder supplements to his coffee. 
Where to Buy Odyssey Mushroom Elixir
Smokeless is one of the vendors of Odyssey drinks. We are based in Minnesota, but you'll find these products in select stores in Bloomington, Burnsville, Minneapolis NE, and Woodbury.  
So, if you live in these cities, go ahead and try the Odyssey Sparkling Water (with passionfruit orange/guava flavor) or the Cold Brew Oat Latte. With blended mushrooms (cordyceps and lion's mane) and 85 mg of caffeine, this adaptogenic drink is your gateway to better cognitive function and increased focus and clarity.
Bottom Line
Odyssey Mushroom Elixir drinks are a great place to start if you've been contemplating trying adaptogens. These drinks are really tasty, besides having desirable health benefits like improved concentration and focus. 
Check out what this happy customer had to say here:
---