Nirvana CBD Gummies Review
The world of CBD gummies is ever-expanding, as they've become a hugely popular way to consume cannabis across the spectrum. If the broad range of cannabis products on the market has got you all excited and curious, you're not alone. 
Many people are trying out CBD to improve wellness, manage pain, or reduce stress. As CBD gummies become yummier and more innovative, they are increasingly becoming part of our dietary landscape. 
Today, we look at a leading CBD brand in the US: Nirvana CBD. Their CBD gummies are loved for their mouthwatering flavors and premium-quality CBD. Let's dive in and see what sets these gummies apart. 
Key Takeaways
CBD gummies are a convenient and yummy way to experience the effects of cannabidiol. 

CBD's effects and potential benefits include relaxation, pain relief, and sleep improvement. 

Nirvana CBD Gummies contain 25mg of broad-spectrum CBD and

zero

THC.
What Are Nirvana Broad Spectrum CBD Gummies?
Nirvana CBD Gummies are a sweet and sugary way to incorporate CBD into your day-to-day lifestyle and wellness routine. Each perfectly crafted gummy is infused with 25mg of high-quality, broad-spectrum CBD extract and an array of beneficial cannabinoids and terpenes. 
These gummies don't have any THC, so you don't have to worry about getting high. However, the CBD dose is sufficient to have you feeling the effects on your body and mind.
How to Use Nirvana CBD Broad-Spectrum Gummies
One of the reasons cannabis gummies have become so popular is that they're so easy to use and full of flavor. Remember that Nirvana CBD Gummies have no THC, so you won't get any psychoactive effects. 
Depending on your desired dosage and individual needs, most people take one or two gummies daily, either in the morning or the evening (or both). You only need to pop one in your mouth and chew, savoring the fruity flavors and effects that kick in within a few hours.
Nirvana CBD Gummies Review
About the Brand
Nirvana CBD has provided patients and regular folks with high-quality CBD products since 2017. Driven by honesty, transparency, and good manufacturing practices, this talented team is deeply committed to superior wellness.  
Nirvana CBD's hemp grows in Colorado and Oregon and is processed in California.  Every production step is subjected to the highest manufacturing standards and rigorous quality checks. 
The company is also passionate about CBD education and helps consumers stay up-to-date on the latest cannabis news.
Benefits
Cannabis has thousands of years of history as a medicinal plant. Today, many people still use cannabis to manage various health conditions.
As cannabis research progresses, the beneficial effects of hemp compounds like CBD are becoming increasingly apparent. Indeed, a growing body of studies suggests CBD may help reduce anxiety, manage pain, improve sleep, and promote overall wellness.
For most people, CBD has become an instrumental part of their lives. It continues to help many live a stress- and pain-free life, besides managing symptoms of various other conditions. Nirvana CBD Gummies deliver on their promise. 
Effects
Because Nirvana CBD Gummies don't have any THC, they won't make you feel "high" at all. Although it depends on your CBD response, these gummies made us feel more relaxed, calm, and focused. 
Consumers have reported pain reduction, less anxiety, better sleep, and a feeling of overall well-being when taking CBD. However, CBD affects people differently depending on several factors, such as weight, tolerance, metabolism, and dose. 
We recommend starting with lower doses as you assess how your body responds. If needed, you can increase the dosage, but remember that more is not always better with cannabinoids. 
Taste
There's no doubt that Nirvana CBD Gummies are one of the yummiest around. They come in assorted sweet and fruity flavors of pineapple, grape, green apple, mixed berries, and watermelon. The gummies are made of natural ingredients, and customers (including us) rave about the delectable flavors with no cannabis aftertaste.
Strength
Each Nirvana CBD gummy contains 25mg of broad-spectrum CBD extract, which is on the high end of a standard dose. While this is a standard dose for people who've tried CBD before, you might want to start off with half a gummy (12.5 mg) if you're new to CBD or have a low tolerance. 
Quality Control
Being a reliable and trustworthy brand is instrumental to succeeding in the cannabis industry. After all, if it's not safe, nobody wants it! 
Nirvana CBD hits it out of the park with its deep commitment to safety and effectiveness. So it's no surprise many cannabis lovers trust these gummies. 
Nirvana CBD uses only premium and organic hemp. Moreover, their gummies are third-party tested to ensure they are pure and safe. 
How do Nirvana CBD Gummies Make You Feel?
Everyone experiences cannabis in their own unique way. Nirvana CBD Gummies are formulated to have a ton of benefits and effects, and they absolutely deliver. 
These gummies make you more relaxed and in tune with your surroundings. Any little ache or pain disappears (or is perhaps forgotten), and the effects are subtle yet rewarding.
How Long Do CBD Gummies Last?
It can be hard to tell precisely how long Nirvana CBD Gummies' effects last. That's because the results are often subtle and non-psychoactive. 
However, these can take up to an hour to kick in and last 2–6 hours. Dosage and personal tolerance also come into play here, meaning each person experiences CBD differently.
Nirvana CBD Gummies Overall Impressions
We love Nirvana CBD Gummies because they're fruity, sweet, and chewy treats that feel like an actual snack. They make incorporating CBD into your everyday routine super easy and exciting, all while being therapeutic.  
Behind this lovable product is a brand just as charming, with solid values guiding its every step in crafting high-quality CBD products that are safe, effective, fun, and delicious. 
So far, so good. Delicious, convenient, accessible, and practical are why we vouch for Nirvana CBD Gummies.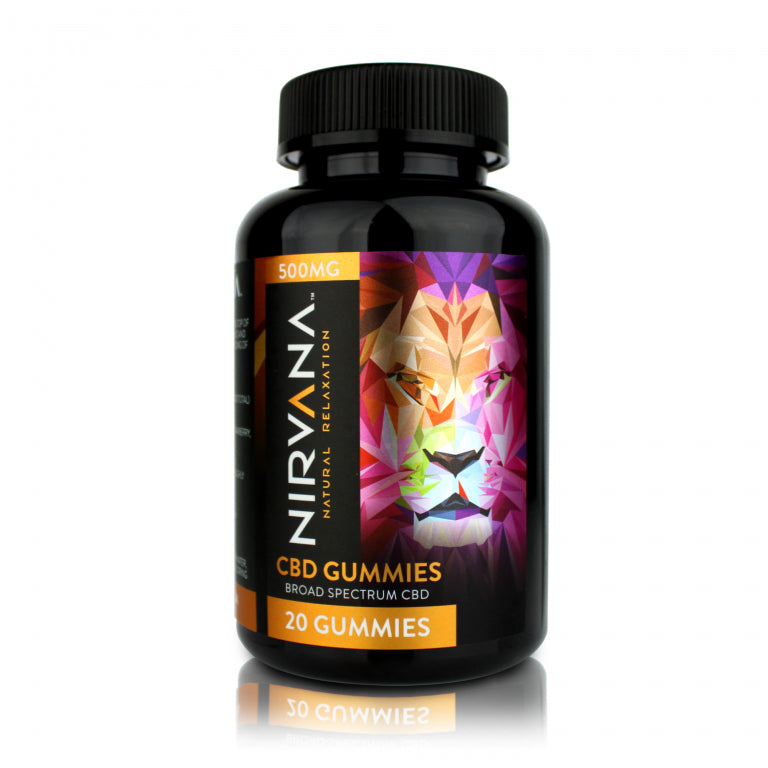 ---